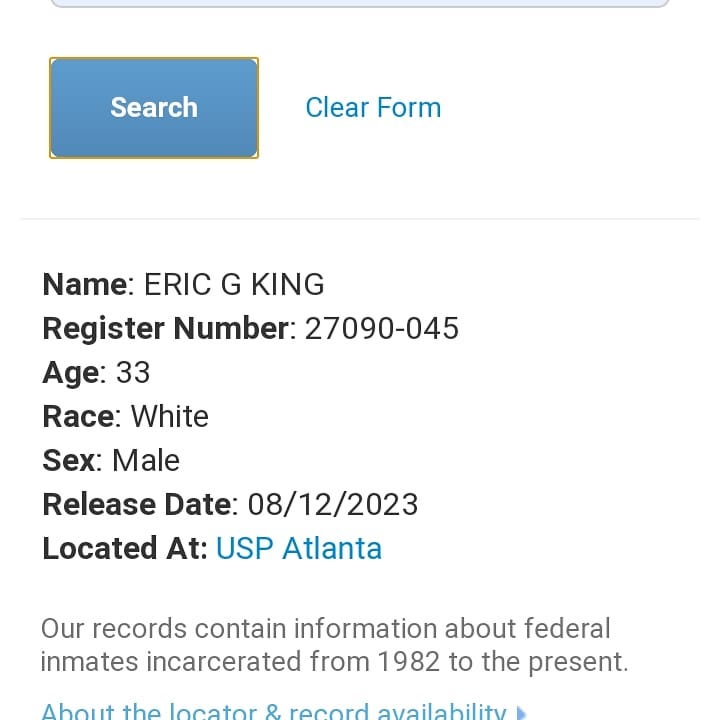 Eric Abruptly Transferred With Urgent Medical Concerns
On or around 8/3 Eric when in custody at USP Lee Eric woke up unable to use his left hand/arm whole side of his body. Unable to life his arm to brush his teeth. Slurred speech and paralysis of the whole left side of his face. When looking in the mirror he experienced mirrored-self misidentification which means that he did not recognize himself in the mirror. His brain could not connect that was him. Within 24 hours all symptoms were gone.

Medical staff came by without entering his cell and told him it was bells palsey which is a paralysis of the facial muscles after an infection. The thing is bells should be IMMEDIATELY ruled out with paralysis of the rest of his body, and the fact bells does not affect anything cognitively and the fact the earliest people can start see improvement is around 2 weeks (erics body was back to normal fully within 24 hours). Eric also carries an increased risk of stroke due to family history

The fact that he experienced stroke symptoms and it is absolutely not bells it is VERY urgent that he be seen by a neurologist. The standard of care when this happens is to perform an immediate ct scan and ultrasound of the neck and be evaluated by a neurologist and have blood tests. The incident was witnessed by both his cell-mate and the staff on duty. There is no doubt this occured.

What happened to Eric meets a lot of the qualifications of a transient ischemic attack or a mini stroke. Obviously without testing we can not know but if this is the case it puts him in danger. One in three folks w this go on to have a full blown stroke. If he doesn't get medical intervention asap there is the possibility of irreversible damage. If this happened on the outside he would have been taken seriously and ended up in the hospital for testing. While not surprising, or shocking his life is of less value due to him being in prison. Its pretty simple. Along with their sentenced prisoners are sentenced to shortened lives due to medical neglect and died, and sometimes death by prison healthcare. We have seen it happen to our comrades over and over..

In the past year in BOP custody he sustained 3 head injuries. At FCI florence he was kicked in the head and body by 6 staff telling him to die after being dragged into a broom closet (on tape) by a lieutenant and attacked. Denied medical care, no assessment for brain injury. Tied to a 4 point bed for 8 hours in his own blood and urine. Then at USP McCreary despite the lieutenant telling him he was going to be attacked they placed him on the yard, a week later guards escorted him to a fenced in area (on camera) where a large fash was waiting to attack him. Another head injury he wasnt assessed for. Then a person was put in his cell who was restricted from having cell mates due to attacking the last 4 cellmates who then attacked eric. Again was not assessed medically.

We received the info regarding his health probably 10-13 days later. We have no way of knowing what has happened since. He was abruptly transferred to the atlanta transfer center yesterday after only 2 weeks at USP Lee. We have no idea where he is going, if he has received medical attention or really anything regarding his situation. We do not know how long he will be in atlanta because he is transferring through but there is the possibility he can receive letters. If you do i suggest copying them so you can re-send them when he arrives wherever he is going.

No one can know if this was benign, if he is ok, anything because he hasnt received the necessary evaluations that can be lifesaving. There is always the possibility things are ok, but also a health situation that has the possibility of danger.

This is prison, life without parole is death by prison for folks. Tom Manning, numerous move folks… so many comrades have been killed by prison healthcare. Not to mention ALL of the social prisoners this is happening to every day who dont have a voice so we can not hear their suffering.

We have no asks at this moment besides keep eric in your thoughts. Write a letter and either send now or save it for his next facility if you can. Keep an eye out if he lets us know he needs help.

All of the rage
-EK suppoprt crew
If you wish to write Eric in Atlanta this is his address. plain paper, black pen, no colored envelopes or even printer ink. no cards, no postcards
Eric King 27090045
USP ATLANTA
P.O. BOX 150160
ATLANTA, GA  30315