Eric is in a step-down unit of the ADX. It was determined it would be unconstitutional to release someone from ADX-level-deprivation to the streets, so the ADX created a special unit for people within a year of their release. They are supposed to be able to earn privileges to help them adjust to the outside world. They have specialized caseworkers that help them know what kind of programming they're eligible for, they can get phone calls, they can get snacks, they can earn a lot of things.
Eric has not been OFFERED ANY programming. Through other prisoners, Eric found out about a program in which he could write essays for treats.
He would like to share some of them with you.
A reminder though: Eric is the only one in this program not getting phone calls and emails. He's not being offered programs to help him get ready to enter the world after being in segregation for 5 years. He proves again and again to just be amazing and resourceful and is working hard to prepare himself by finding these programs for himself, finding these opportunities, and PERSISTENTLY pestering staff to let him try them.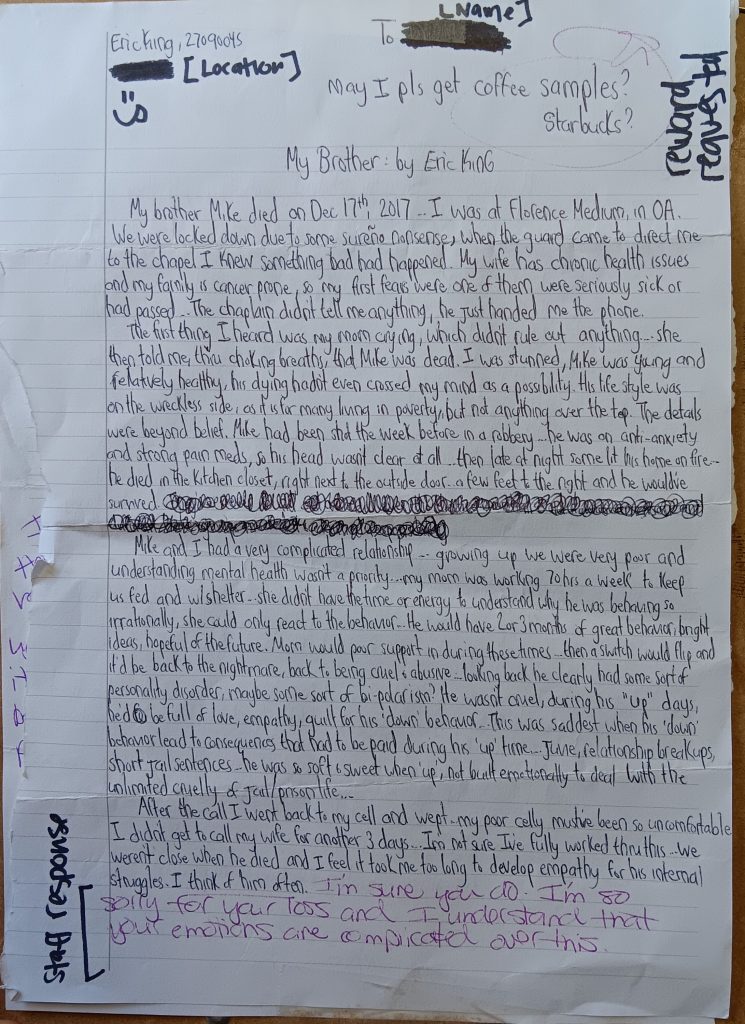 My Brother: by Eric King
My brother Mike died on December 17th 2017… I was at Florence medium in OA. We were locked down due to some serraño nonsense, when the guard came to direct me to the chapel I knew something bad had happened. My wife had chronic health issues and my family is cancer-prone, so my first fears were one of them were seriously sick or had passed…The chaplain didn't tell me anything, he just handed me the phone.
 The first thing I heard was my mom crying, which didn't rule out anything… she told me, through choking breaths, that Mike had died. I was stunned. Mike was young and relatively healthy, his dying hadn't even crossed my mind as a possibility. His lifestyle was on the reckless side, as for many living in poverty, but not anything over the top. The details were beyond belief. Mike had been shot the week before in a robbery…He was on anti anxiety and strong pain meds, so his head wasn't clear at all… Then late at night someone lit his home on fire. He died in the kitchen closet, right next to the outside door… a few feet to the right he would have survived. 
Mike and I had a very complicated relationship… growing up we were very poor and understanding mental health wasn't a priority… My mom was working 70 hours a week to keep us fed with shelter. She didn't have the time or energy to understand why he was behaving so irrationally; she could only react to the behaviour…, he would have two or three months of great behavior, bright ideas, hopeful future. Mom would poor support in during those times then a switch would flip and it'd be back to the nightmare, back to being cruel and abusive…looking back he clearly had some sort of personality disorder, maybe sort of bipolar? He wasn't cruel during his "up" days, he'd be full of love and empathy, guilt for his "down" behavior…this was the saddest when his "down" behavior led to consequences that he paid for during his "up" time. Juvie, relationship breakups, short jail sentences…he was soft and sweet when he was "up" but not built to emotionally deal with the unlimited cruelty of jail/prison life.  
After the call I went back to my cell and wept…my poor cellie must have been so uncomfortable. I didn't get to call my wife for another 3 days…I'm not sure I fully worked through this. We weren't close when he died and I feel it took me too long to develop empathy for his internal struggles. I think of him often.