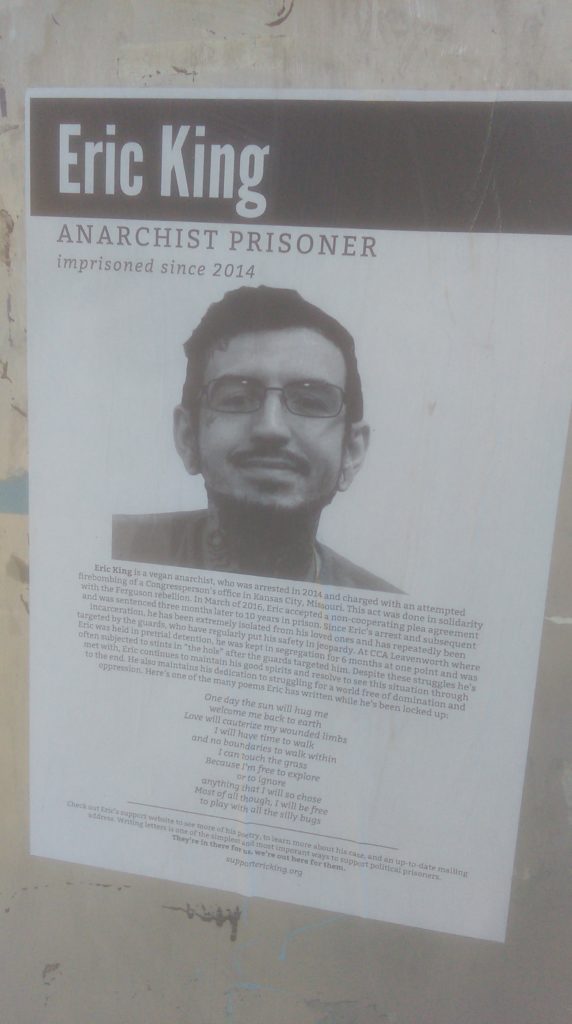 Greetings everyone!
Mark your calendars, Eric turns 32 on Thursday, August 2nd and he would love to hear from any and all supporters! Make plans to get together with some friends to fill out a birthday card and/or send off some letters to Eric! Check out our Support Materials tab to see the hand bills and posters that we have ready for people to download and print off to continue in the effort to raise awareness about Eric King and his plight.
On September 16th, not long after Eric turned 28, he was arrested and later sentenced to ten years. For the last four years Eric really has endured quite a bit in the various detention facilities he has been in since the time he was arrested until now. Not only is there the physical toll that prison can bring about but there is a strong emotionally taxing aspect as well.
As you've seen in our previous post, Eric's partner was diagnosed with cancer recently, so we are doing what we can to support them both through this tough time. Please donate and spread the word on the fundraiser that we got started to help support Eric's partner and family, so when you get together to write letters or fill out greeting cards for Eric's birthday don't forget about the fundraiser as well. As usual – every donation counts, no matter how large or how small.
Typically we also take the occasion to make sure we remind you about two other political prisoners who have birthdays during the same week that Eric celebrates his: Debbie Africa's on August 4th and Bill Dunne's is on the 3rd. Since Eric's is on the 2nd, we can easily remember to send a card to all three when we decide to send a card to Eric. Except this year, after 40 years of captivity Debbie Africa was released from a Pennsylvania state prison and into the arms of family and friends on June 17th of this year!!!!
So, as we move forward we would like to remind everyone that Bill Dunne turns 65 on Friday, August 3rd, and has been imprisoned since October 14th, 1979. He is still at FCI Victorville in southern California. While our focus is on Eric King, we here at the Eric King support crew support all political prisoners!
Here is Bill's current mailing address to send cards and letters of support:
Bill Dunne #10916-086
FCI Victorville Medium I
PO Box 3725
Adelanto, California 92301
And here is Eric's current mailing address:
Eric King # 27090045
FCI Florence
Federal Correctional Institution
PO BOX 6000
Florence, CO  81226
Thank you so much for the continued support!
Until all are free!
-EK Support Crew