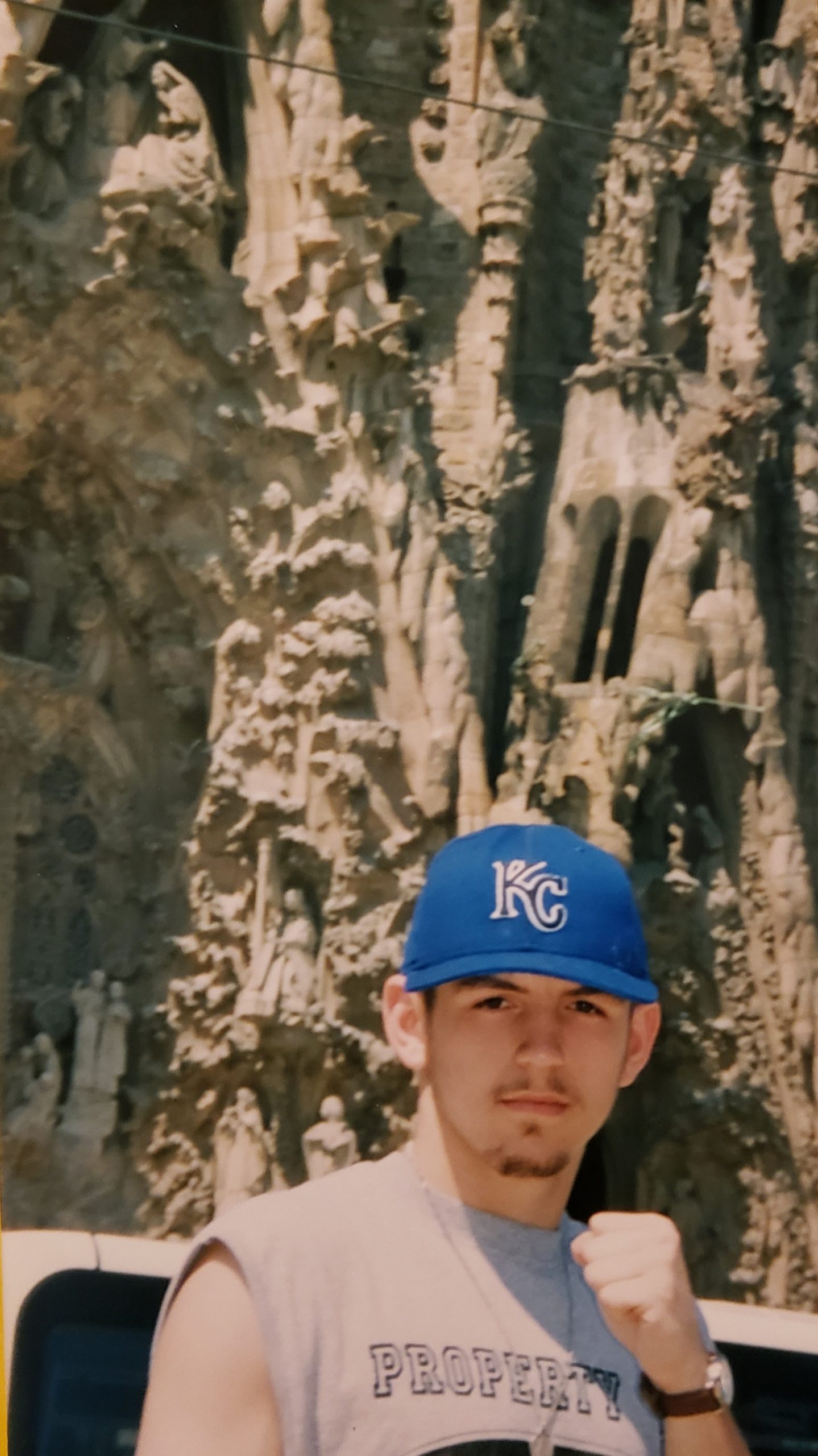 The week before last Eric was "accidentally" escorted into a room before his disciplinary hearing where the captain who authorized his prolonged 4 point restraints, (who was involved in beating him while he was cuffed up). was just chilling waiting for him. This is the second time this month he has been walked into a room that an officer who will be called to testify against him in his case was sitting in.
He wanted to share his disciplinary hearing report so folks understand what the BOP is attempting with any anarchist group. This isn't the first time the CTU or counter terrorism unit. If you look here they falsely added the counter terrorism unit to his last shot and mysteriously rewrote the shot to remove it. https://supportericking.org/2020/06/26/a-tale-of-two-shots/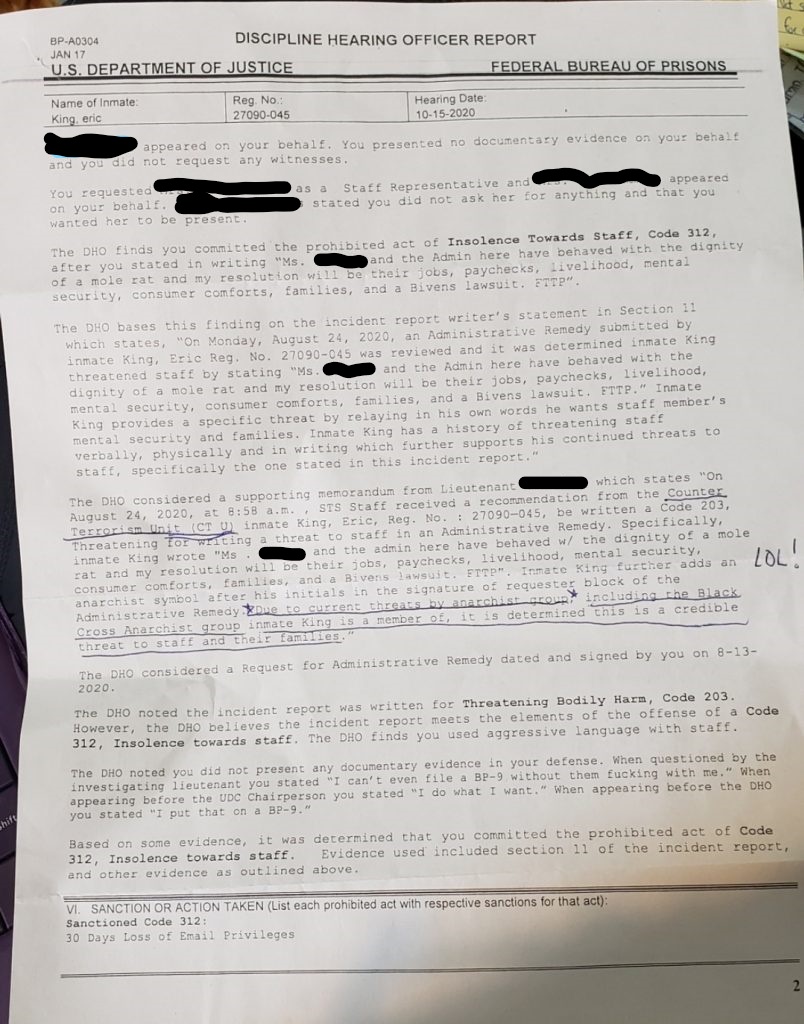 As of right now he has been found guilty of 26 disciplinary shots since arriving at FCI Englewood in August of 2019 (numerous others have bee n thrown out). Prior to being attacked in 2018 he had only received ONE disciplinary write-up since he entered the BOP.
It is a bit concerning that the BOP is sending staff from a prison with an active staff COVID outbreak into FCI Englewood to do his disciplinary hearing. Especially since the next week FCI Englewood went from 0 cases to 1 staff case.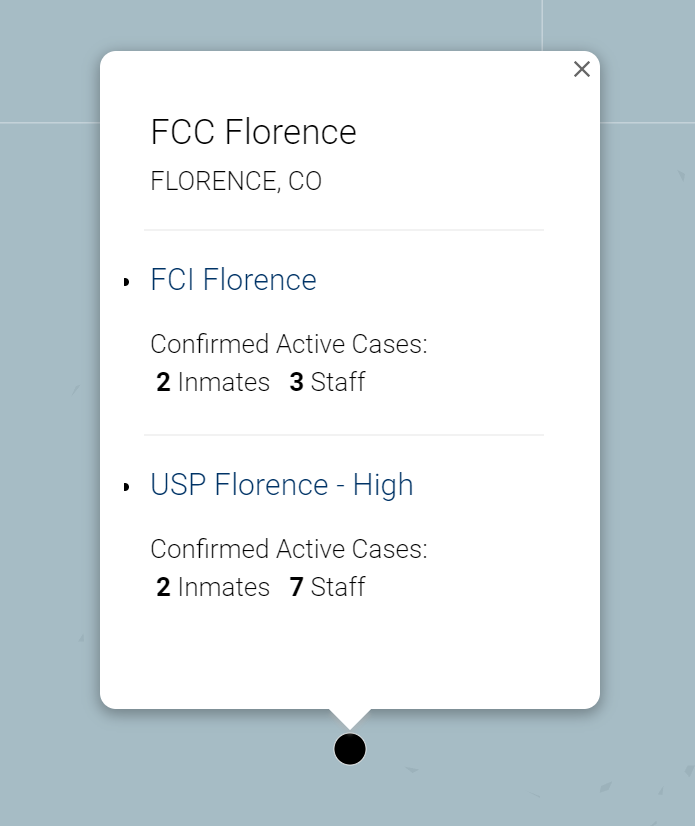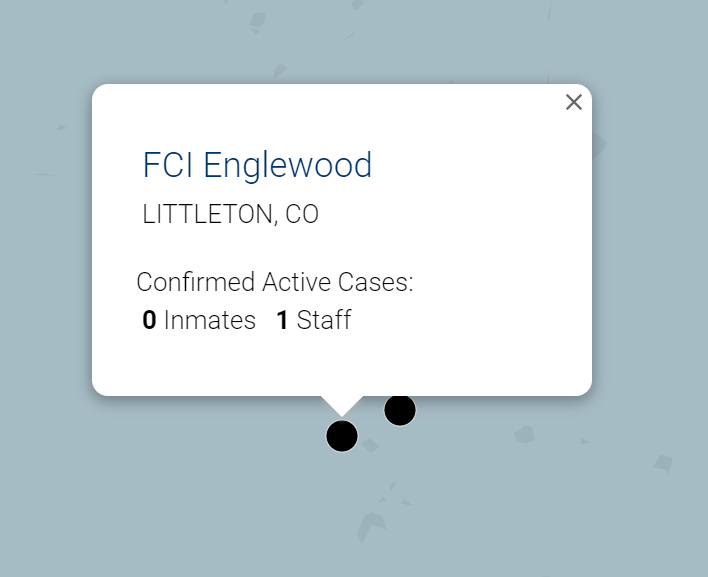 This month Eric has been exposed to at least 3 staff from the Florence complex.
In addition to the usual bullshit at the prison the Colorado Federal Attorneys office has postponed the scheduling of jury trials until after January. This is unprecedented. This means that the federal holding facilities are just piling up pre-trial prisoners and no one has any idea when they will ever have the chance to have a trial. With mounting civil unrest and COVID federal prisoners ARE BEING HELD WITHOUT TRIALS. Until further notice. They are being held in facilities riddled with COVID with the death toll climbing.

He can receive books and magazines from publisher or clearly marked from some sort of books for prisoners group. There is a major risk in sending him books and whatnot and that is at any minute they can and will change the rules, stop giving them to him, reject. And you can loose the money spent sending them, or the book potentially could go missing. This is something to keep in mind when sending anything.
Eric should have a review regarding his mail block soon. We really have no idea how it will play out. Once a block is in place it is so easy to just keep it in place for the prison. His illegal phone block was implemented almost 2 years and he STILL has not had his first 6 month review.