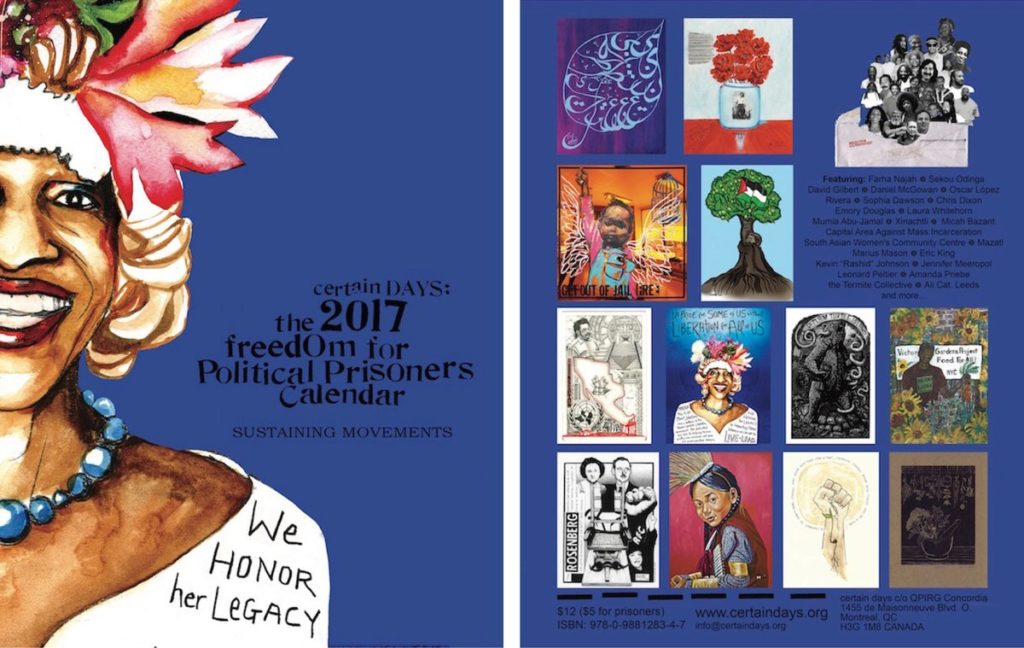 We're thrilled to announce that Eric has a poem in this year's Certain Days calendar! For those who are not familiar, the Certain Days: Freedom for Political Prisoners Calendar is a joint fundraising and educational project between outside organizers and three political prisoners: David Gilbert, Robert Seth Hayes, and Herman Bell. Each year the calendar features a variety of artwork and writings from both current and former US held political prisoners and this year our very own Eric contributed.
EK was honored to be involved in this project for a handful of reasons. The calendar not only features creative work from a lot of incredible folks who are very politically active, many while still behind bars, but it also exists as a unique and exciting body of work celebrating those who have dedicated their lives to various freedom struggles and movements including (but not limited to) the Black Panther Party, the Earth and Animal liberation movements, the American Indian Movement, and other anti-racist, anti-colonial, anti-globalization movements. Because the calendar, now in its 16th year, is made available to political prisoners through outside sponsorship and is offered at a discount for folks to send to their friends inside who are not on that list, it allows for a continued connection between those imprisoned and their comrades on the outside.
The poems Eric writes are truly an expression of who he is and his experience. By the time we all hang up our Certain Days calendars and turn the page to start January of 2017 EK will have been in prison for almost two and a half years. Over that period the poems he has written have been a great opportunity to get to know Eric and get in touch with what he can offer to the world. Never losing a step, and never far from us while being locked up, we see where he is and the connection to the movement with every completed poem of his we hold in our hands. Let's move forward together and acknowledge what our comrades have to offer whether inside or out.
Be sure to order your very own (and one for all of your friends and comrades) today! Check out the Certain Days website for more information including the beneficiaries of the proceeds.   And of course, you don't want to miss Eric's featured poem, entitled "What Did We Do Today?" in this year's edition.
In solidarity with all political prisoners and all our comrades who are locked up, and in solidarity with the Certain Days collective.
Thanks, everyone for your continued support!
-EK Support Crew